Course Modality Definitions
A course mode of instruction describes the way students interact with and engage the course material, instructor, other students, or any work that must be done as a part of the course requirements. Below is the list of different modalities in which Moody Bible Institute and Moody Theological Seminary students may take courses. To see the mode of instruction for a course while you are searching for classes, just look at the course details before adding the class to your shopping cart: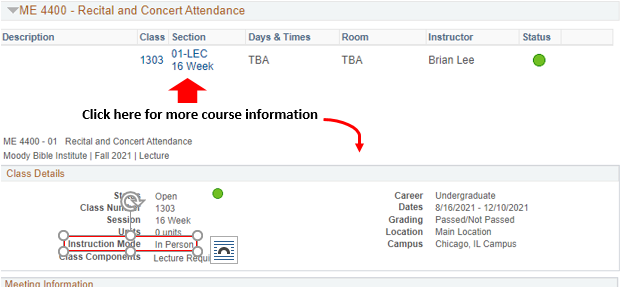 Face-to-Face
Look for "In Person" when searching for courses
In this modality, your physical presence in the classroom location is required during specific times of the week/day. Could include seminars, in-person lectures, music ensemble conduction, or supervised cohort/group work, fitness activities, field work (internships), or delegated instruction of the sort.
Hybrid
This mode of instruction is a combination of face-to-face instruction and online instruction as defined and determined by the instructor. Hybrid courses use multiple modes of instruction without being distinctly different periods of time or content. Variations could include instructor lecturing live students in one classroom with other students in a different location watching the lectures via video conferencing software.
Online Asynchronous
Look for "Online" when searching for courses
This modality includes material taught 100% online with weekly assignments and asynchronous discussions or course requirements. Course content is mainly delivered through self-guided material with optional enhancements using short, pre-recorded media. There is no live interaction between the instructor and students. The course will be administered through Canvas.
Online Synchronous
This modality is distinct in that the course includes live meeting times for lecture, discussion, or other instructor-led interaction. It is otherwise the same as Online Asynchronous.
HyFlex
The HyFlex modality is not two or three courses in one. It is a unique modality with options to attend face-to-face, synchronous (live), asynchronous (recorded). Students decide how to participate and can swap between these three options. Faculty must be versed in all three teaching methodologies to be able to handle all three simultaneously and be comfortable with classroom instruction. Classroom interaction should be conducted either through classroom Q&A, live chat, or online discussion boards (or any combination of these).
Directed Study
A directed study course is an option available to students who, due to extenuating circumstances, are not able to meet program or graduation requirements within the regularly scheduled courses. Directed studies may only be used to meet requirements for a student's designated degree program. Students must request a directed study using the form for their respective program, available from the Office of Academic Records (click "Forms" on the left of this page)
Click Here for a full list of modalities and their definitions.
Contact Us
Office of Academic Records
Email:
arecords@moody.edu
Phone: (312) 329-4469
Fax: (312) 329-8987
Office Hours:
Mon–Fri, 8 a.m.–4:30 p.m. CST